WILD TURKEY
1971 - Today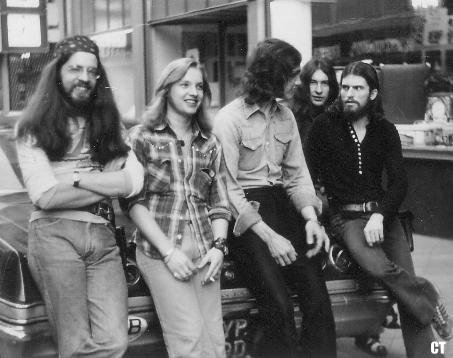 Lineup:
Glenn Cornick - bass
Tweke Lewis - guitar
Jon Blackmore - guitar, vocals
Jeff Jones - drums
Gary Pickford-Hopkins - vocals (acoustic guitar and harmonica on "Stealer Of Years")


Albums:
Battle Hymn - 1971
Turkey - 1972
Stealer of Years - Fall 1996
Final Performance - 2000

History:
In 1971, Glen Cornick took the momentous step of leaving Jethro Tull having played bass on their first three albums: "This Was", "Stand Up", and "Benefit". He left a group that is undoubtedly one of the world's most influential and viable products of seventies rock to face a challenge that most musicians would find daunting. He left to find the musical freedom he felt he needed to extend his musical creativity. A founder member of Jethro, Glenn had started to write songs that were not compatible with the musical identity of Jethro and rather than remain just playing bass with them, he decided to go his own way.

The decision made, Glenn started to look for the musicians for the band he had in mind. Over a period of three months, he looked at and auditioned a variety of people he'd been recommended. Eventually he chose four. Each of them came from vastly differing backgrounds, but as Wild Turkey, the name he chose for his new band, they have developed a corporate style that has been welded together over the past few months. They rehearsed, talked music and lived together in a farmhouse they rented for a month and then went out on the road. It was Glenn's decision to go out and build a reputation by playing to the club audiences that are instrumental in building a band's following rather than make use of the name and stature he earned within Jethro and rush straightaway into the recording studios to trade on his past.

During the past few months, Wild Turkey have steadily built an ever increasing following among club and college audiences around the country. With Glenn in Wild Turkey are vocalist Gary Pickford-Hopkins, drummer Jeff Jones, rhythm guitarist Jon Blackmore and lead guitarist Alan "Tweke" Lewis.
Gary Pickford-Hopkins, who also plays acoustic guitar, joined Turkey from the now-defunct Eyes Of Blue, a highly rated Welsh outfit that won a Melody Maker group contest. The Eyes Of Blue were together for five years and during that time Gary's vocals were an important part of their blues-based music. Like Jon Blackmore though, Gary also has his roots in folk music and Wild Turkey's set includes some acoustic numbers that have come about through that shared influence.

Jon Blackmore met Glen Cornick when Jon was playing in a small folk group and played occasional gigs at Glenn's parents' London pub. Glenn was in the audience one night, liked what he heard, and asked Jon to join Turkey.
Jeff Jones and "Tweke" Lewis are young musicians with reputations earned in a variety of groups. Jeff Jones knew Gary from times spent jamming together and, prior to joining Turkey, had been with Man, an experimental Welsh group with a wealth of European existence. Guitarist "Tweke" Lewis was the last member to join. A talented young musician, he was playing in Swansea one night when the rest of Wild Turkey heard him. He was just the guitarist that Glenn had been looking for, they approached him on the spot, told him what they had in mind, and the next day he left his old group and completed the Wild Turkey line up.