CARMEN
1973 - 1975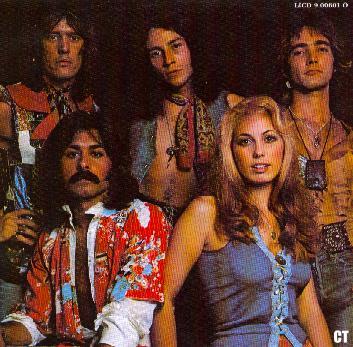 Lineup:
Roberto Amaral - Footwork, vibes, chimes, castanets, percussion, vocals
John Glascock - Bass guitar, synthesiser, vocals
Angela Allen - Piano, melletron, synthesiser, vocals
Paul Fenton - Drums, percussion, vocals
David Clark Allen - Electric and acoustic guitars, piano, melletron, synthesiser, vocals


Albums:
Fandangos In Space - 1973
Dancing On A Cold Wind - 1974
The Gypsies - 1975

History:
Carmen was originally started in USA with the following band members: David Allen, Angela Allen, Brian Glascock, Mark Anthony, Dennis Trerotola, Vicente and Mark Moody. After moving to London hunting for a record company that was interested, the line-up changed to: David Allen, Angela Allen, Roberto Amaral, Brian Glascock and John Glascock. Brian Glascock decided to drop the trip, and was replaced with Paul Fenton on drums. The were quickly signed up with a record company, and their first album, Fandangos In Space, was released mid-1973. Carmen combined flamenco music with progressive rock. Adding to their distinctiveness was the fact that during long instrumental passages, members of the band would dance onstage, adding those sounds to the instrumental mix. Their second album, Dancing On A Cold Wind, was released early 1974, followed by a US tour the next year where they also opened for Jethro Tull. Carmen were supposed to open for Rolling Stones on their tour as well, but the income on the US tour could not cover the expenses. And after Paul Fenton fell off a horse and injured himself, John Glascock was forced to dig potatoes at Long View Farm, MA, to make ends meet. Carmen was then abandoned by their record company, and John Glascock had to make a deal with the farm owner at Long View - John worked the land in order to use the farm's recording studio. The band landed a recording contract with Mercury, and their third and last album, The Gypsies, was released in mid-1975. The album was dedicated to Ian Anderson and Terry Ellis. Terry Ellis had promised to sign the band to Chrysalis, but the band went bankrupt and disbanded before the promise was fulfilled.