---
Slipstream
---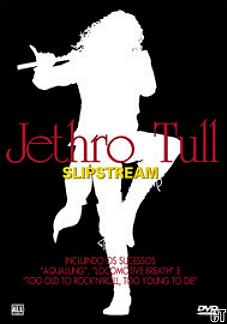 TRACKS: Black Sunday / Dun Ringill / Fylingdale Flyer / Songs From The Wood / Heavy Horses / Sweet Dream / Too Old To Rock'N'Roll: Too Young To Die / Skating Away On The Thin Ice Of The New Day / Aqualung / Locomotive Breath
YEAR: 2002
COUNTRY: BRAZIL
DVD: EMI
REMARKS: This DVD was released in Brazil for half the price of a normal DVD just to support people to buy DVD players. That had happened before with Deep Purple, Yes,
Black Sabbath, Queen and others. The DVD is probably a rip from the original Laser Disc, with authorization from EMI Brasil. This release is Region 0 (able to play in all DVD players), has a Dolby Digital 5.1 option and biography, photo gallery and discography.
PLEASE NOTE! Even though this is announced as an official release on various websites and online auctions, this DVD has NOT been authorized by either Jethro Tull or EMI.