---
Songs For Jethro - Vol. 1
---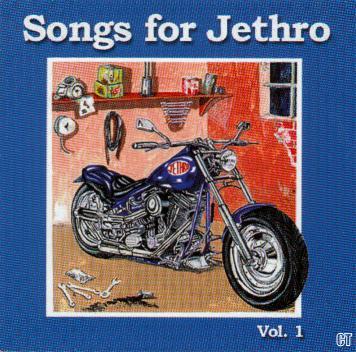 TRACKS: Malibran: Bourée / Lincoln: Living In The Past / La Macchina Ossuta: Skating Away... / Souldrivers: Sweet Dream / Silvia Perlini & Gianni Mocchetti: Only Solitaire / Circle Game: Nursie / Dario Lombardo & Chicago Blue Revue: Cat's Squirrel / Ernesto de Pascale & London Underground: A New Day Yesterday / U.B.T.: Mother Goose / Cpt. Elica & Dissoi Logio: Fat Man / Novalia: Aqualung / Oak: A Song For Jeffrey / Garybaldi: Locomotive Breath / Algebra: Up To Me / Dun: Dun Ringill / Germinale: Wond'Ring Aloud / Beggar's Farm: With You There To Help Me / Grand Court Jesters & Special Guests: We Used To Know / Ductia: For Michael Collins, Jeffrey And Me / Michele Manzotti: Too Old-Theme
1 CD: PDB 2000 010-2
RELEASE: 2000
REMARKS: Various bands from Italy playing cover versions of Jethro Tull tracks. Clive Bunker, Glenn Cornick and John Evans playing on track 18.