---
WIND UP IN DALLAS
---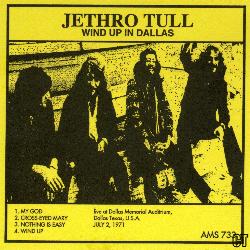 TRACKS: My God, flute solo including Bourée / Cross-eyed Mary including drum solo / Nothing Is Easy / Wind-up, guitar solo, Locomotive Breath, Hot-headed English Gentleman, Wind-Up (medley)
CD: Amsterdam AMS 733, '98 (JA)
QUALITY: Good
TOTAL TIME: 55:43 min.
REMARKS: Bootleg. Recorded at the Dallas Memorial Auditorium, Dallas, TX, July 2nd, 1971. "Bourée", "Locomotive Breath" and "Hot-headed English Gentleman" not listed on cover. Released in a card sleeve with different colours; red, blue, green and yellow.