---
WHIRLING DERVISH
---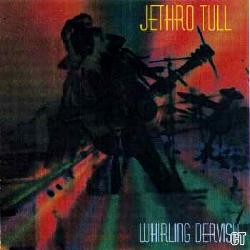 TRACKS: Beethoven's Ninth Symphony (second and fourth movements abridged) / Minstrel In The Gallery / Cross-eyed Mary / Aqualung / Encore (comprising Wind-up, Back-door Angels, Locomotive Breath, The Dambusters March and Land of Hope And Glory) / Thick As A Brick / Farm On The Freeway / Wond'ring Aloud / Skating Away On The Thin Ice Of A New Day / Jump Start / Too Old To Rock'n'Roll; Too Young To Die / Aqualung / Locomotive Breath / Thick As A Brick (reprise)
2 CD: Sound Carrier System SCS 847013/14
QUALITY: Very good.
TOTAL TIME: 45:51 min, 47:55 min.
REMARKS: Bootleg. First five tracks recorded at the Anaheim Convention Centre, April 6th, 1977 (a copy of the second CD on A Sackful Of Trousersnakes). Last nine tracks recorded at the Tower Theatre, Philadelphia, November 25th, 1987. Could be a copy of Wondering Aloud.