---
WHERE'S JETHRO ?
---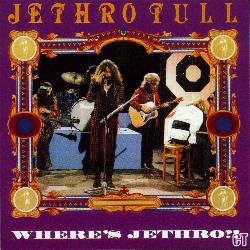 TRACKS: My Sunday Feeling / My God / To Cry You A Song / With You There To Help Me, By Kind Permission Of (medley) / Sossity, You're A Woman, Reasons For Waiting (medley) / Hold On I'm Coming / Let The Good Times Roll / Don't Fight It / Respect / Water / Everything's Gonna Be Alright / Mr. Pitiful / Stupidity / Pink Champagne
CD: Tendolar TDR-043, '98 (??)
QUALITY: Good (some hissing)
TOTAL TIME: 74:11 min.
REMARKS: Bootleg. Tracks 1 through 5 recorded at the Aragon Ballroom, Chicago, IL, August 16th, 1970. "By Kind Permission Of" not listed on the cover. Tracks 6 through 14 are not Jethro Tull but its predecessor, the John Evan Band. Recorded in 1966, and probably copied from the A New Day AND CD1 The John Evan Band Live '66 released in November 1990.