---
WHEN MINSTRELS CAME TO PLAY
---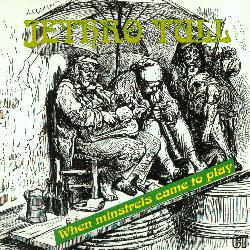 TRACKS: Intro / Some Day The Sun Won't Shine On You / Living In The Past (instrumental) / Fat Man / Rocks On The Road / Life's A Long Song / Under Wraps / Nursie / Too Old To Rock'n'Roll; Too Young To Die / One White Duck / A New Day Yesterday / Aqualung / From A Dead Beat To An Old Greaser / Roll Yer Own / Look Into The Sun (Instrumental) / Christmas Song / Said She Was A Dancer / Bourée / When Jesus Came To Play / Pussy Willow (instrumental) / Jump Start / Locomotive Breath / Thick As A Brick
2 CD: All About Fame AAF 003 A/B CD
QUALITY: Excellent.
TOTAL TIME: 64:44 min, 65:42 min.
REMARKS: Bootleg. Recorded in Mannheim, May 5th, 1992, on the A Little Light Music tour. "Some Day The Sun Won't Shine On You" is mis-labelled as "Leaving Blues". "Nursie" erroneously listed as "One Brown Mouse" on the cover.