---
WATCHERS ON THE STORM
---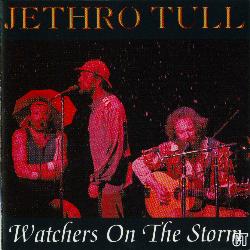 TRACKS: Intro, Dark Ages (medley) / Home / Orion / Dun Ringill / Elegy / Old Ghosts , Something's On The Move (medley) / Aqualung / Peggy's Pub / Jack-In-The-Green / King Henry's Madrigal, Heavy Horses (medley) / Flute Solo, Bourée, Soiree, God Rest Ye Merry Gentlemen, Kelpie (medley) / Songs From The Wood / Hunting Girl / Jams O'Donnell's Jig / Thick As A Brick / Too Old To Rock'n'Roll; Too Young To Die, Cross-eyed Mary (medley) / Guitar Solo, Minstrel In The Gallery, Locomotive Breath, The Dambusters March (medley) / Like A Tall Thin Girl / Bourée / Locomotive Breath / Aqualung, Tequila (medley) / Locomotive Breath
2 CD: Flashback 01.93.0201, '93 (LU)
QUALITY: Excellent.
TOTAL TIME: 73:41 min, 53:44 min.
REMARKS: Bootleg. Most tracks recorded in The Hague, Netherlands, March 16th, 1980. Last five tracks from the Howerd Stern Radio Shows, New York. Three from November 14th, 1991, and two from November 17th, 1987.