---
TALES FROM THE CRYSTAL FLUTE
---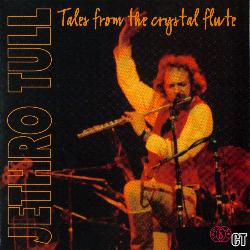 TRACKS: Strange Avenues / Steel Monkey / Big Riff And Mando / Thick As A Brick / Rock Island / Requiem (includes instrumental Black Satin Dancer) / Cheap Day Return / Mother Goose / Jack-A-Lynn / Another Christmas Song / My God (includes Bourée and Soirée) / The Pine Marten's Jig, Drowsy Maggy (medley) / The Whaler's Dues / Budapest / Farm On The Freeway / Sea Lion (instrumental) / Kissing Willie / Nothing Is Easy / Aqualung
2 CD: Big Music BIG 001/2, '92 (IT)
QUALITY: Excellent
TOTAL TIME: 57:15 min, 52:34 min.
REMARKS: Bootleg. Recorded at the Hammersmith Odeon, London, September 1989. "Big Riff and Mando" misspelled ".. Mundo". "The Pine Marten's Jig" listed as "Bourée". "Drowsy Maggy" and "Sea Lion" not listed on cover.