---
SUPERCHARGED THROUGH L.A.
---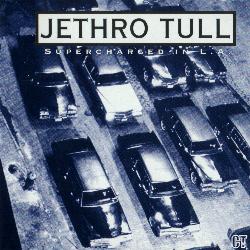 TRACKS: A Passion Play / Thick As A Brick / Wind-up / Cross-eyed Mary / No Rehearsal (including segments of Thick As A Brick, a l-o-o-o-ng drum solo, and the music from The Hare Who Lost His Spectacles) / Aqualung / Bourée, (brief segments of Living In The Past, Thick As A Brick, unknown tune, My God, and Pop Goes The Weasel), Sea Lion (medley) / My God (including God Rest Ye Merry Gentlemen) / Skating Away On The Thin Ice Of A New Day / Wond'ring Aloud / War Child / Bungle In The Jungle
2 CD: Save The Earth STE 027-A/B
QUALITY: Good/Very good
TOTAL TIME: 70:26 min, 60:53 min.
REMARKS: Bootleg. First six tracks recorded at the Los Angeles Forum, July 20th to 22nd, 1973, and the last six at the same venue February 10th, 1975. The cover (on some???) reads "Supercharged In L.A." First three tracks erroneously listed as recorded in July 1975 on cover.