---
SONGS FROM THE WOODEN GRAMMOPHONE
---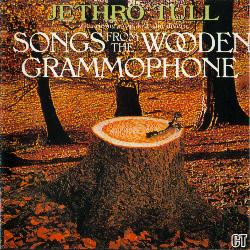 TRACKS: Skating Away On The Thin Ice Of A New Day / Jack-In-The-Green / Thick As A Brick / Songs From The Wood / Velvet Green / Hunting Girl / Aqualung / Wind Up / Locomotive Breath, Pomp And Circumstances, finale (medley) /Sweet Dream / Dark Ages / Dark Ages / Wardrobe Whopper
CD: Wooden Gramophone Records WGR 001
QUALITY: Good
TOTAL TIME: 73:59 min.
REMARKS: Bootleg. First nine tracks recorded live at Golders Green Hippodrome, London, February 10th, 1977 for the BBC "Sight and Sound In Concert" programme.Tracks 10 and 11 are live recordings (venue unknown). Track 12 is a studio segment, almost a capella. Last track is listed a short snippet from a 1979 Burger King jingle, but are probably just part of a pre-concert sound check.