---
SERENADE FOR A COOCOO
---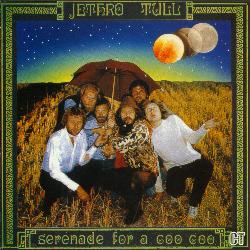 TRACKS: Songs From The Wood / Living In The Past / Serenade To A Cuckoo / Thick As A Brick / Farm On The Freeway / Too Old To Rock'n'Roll; Too Young To Die / Aqualung / Locomotive Breath / Dharma For One / Under Wraps / Pussy Willow / Clasp / Living In The Past
CD: Buccaneer Records BUC008
QUALITY: Excellent.
TOTAL TIME: 73:48 min.
REMARKS: Bootleg. First eight tracks recorded at the Philadelphia Tower Theatre, November 25th, 1987. "Dharma For One" may be the well-known recording from Stockholm, January 9th, 1969. Last four tracks recorded at the Hammersmith Odeon, London, September 9th, 1984.