---
ON THE DUTCH FREEWAY
---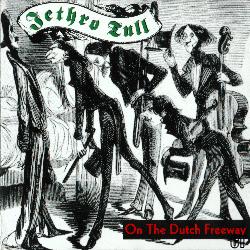 TRACKS: My Sunday Feeling / For A Thousand Mothers / Living In The Past / Bourée / So Much Trouble / With You There To Help Me / Steal / Farm On The Freeway / Thick As A Brick / Beggar's Farm / Sossity; You're A Woman, Reasons For Waiting (medley) / Songs From The Wood,Too Old To Rock'n'Roll; Too Young To Die, Heavy Horses (medley) / Later That Same Evening / Budapest / Passion Jig / A New Day Yesterday / Aqualung / Locomotive Breath / Cross-eyed Mary / Dharma For One
2 CD: Save The Earth STE 042
QUALITY: Excellent
TOTAL TIME: 59:21 min, 60:57 min.
REMARKS: Bootleg. Recorded at the Frits Philips Muziekcentrum, Eindhoven, The Netherlands, May 14th, 1994. "Steal" is listed as "Instrumental". "Passion Jig" is listed as "Passion Play Jig".