---
LIVE UNAPPROVED
---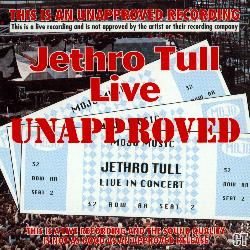 TRACKS: SeaLion (Instrumental) / Kissing Willie / Steel Monkey / Cheap Day Return / Jack-A-Lynn / Big Riff And Mando / The Whaler's Dues / Farm On The Freeway / Aqualung / Nothing Is Easy
CD: MOJO-057 (AS)
QUALITY: Excellent.
TOTAL TIME: 51:01 min.
REMARKS: Bootleg. Recorded at ??? (probably a mix of venues). SeaLion Instrumental on track 1 is not listed on cover.