---
COMPLETE PERFORMANCE 1972
---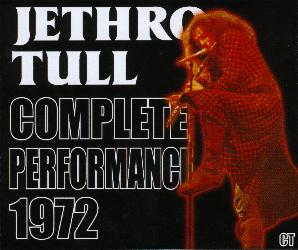 TRACKS: Only Solitaire Intro / Thick As A Brick (inkl. Bourée) / Thick As A Brick II / Cross Eyed Mary / A New Day Yesterday / Aqualung / Wind-Up / Locomotive Breath / Wind Up (Reprise)
3 CD: HeartBreakers HB-921-1/2/3 (99) (JA)
QUALITY: Very Good/Good
TOTAL TIME: 48:55 min, 61:57 min, 33:46 min.
REMARKS: Bootleg. Cover says: recorded Live at Koseinenkin-Kaikan, Tokyo, Japan, July 19 - 1972, but I think this concert was the 15. July. "A New Day Yesterday" incorrectly listed as "Up To Me" on cover. "Only Solitaire" not listed on cover. This is the same concert as Thick As A Stage, but from a sifferent source and 9 minutes longer.