---
U.S. CONVENTION - VERMONT 10.11.1997
---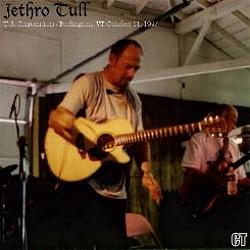 TRACKS: Serenade To A Cuckoo / Dun Ringill / Martin Barre Solo / Mother Goose / In A Black Box / Under Wraps (keyboard instrumental) / Cheap Day Return / Like Blood (bass solo) / Bombay Valentine / Locomotive Breath (audience participation) / Thick As A Brick / The Whistler
CDR: No Label, '9? (US?)
QUALITY: Very Good
TOTAL TIME: 72:01 min
REMARKS: Bootleg. Recorded live at the U.S. Convention in Burlington, Vermont, October 11, 1997.