---
TULL vs BOEING
---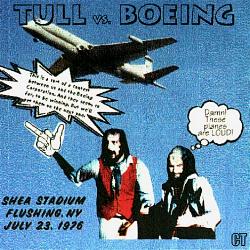 TRACKS: Thick As A Brick / To Cry You A Song / Medley: A New Day Yesterday-FluteSolo-Bourée-Living In The Past / Too Old To Rock'N'Roll; Too Young To Die / Minstrel In The Gallery / Beethoven's 9th Symphony / My God / Cross-Eyed Mary / Guitar Solo / Wind Up / Back Door Angels / Locomotive Breath-Wind Up Reprise / Dambuster's March-Back Door Angels Reprise
CDR: Rissoldo, '?? (??)
QUALITY: Very Good +
TOTAL TIME: 72:59 min.
REMARKS: Bootleg. Recorded live at Shea Stadium, New York, July 1976.