---
TULL TV - VOL. 1
---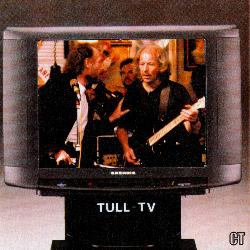 TRACKS: With You There To Help Me, By Kind Permission Of (medley) / Made In England / Fly By Night / Fat Man / Serenade To A Cuckoo / Skating Away On The Thin Ice Of A New Day / Bourée / Fat Man / Aqualung, Locomotive Breath, Black Sunday (instrumental) (medley) / Some Day The Sun Won't Shine For You / So Much Trouble / Living In The Past / Life's A Long Song / Locomotive Breath / Up The Pool
CDR: HMRCD00.05, '97 (UK)
QUALITY: Excellent / Very Good (tracks 5-8)
TOTAL TIME: 61:06 min.
REMARKS: Bootleg. Track 1 recorded from Beat Club, German TV June 1970. Track 2-4 recorded from Rock Nacht, München Atlas Circus, GE November 15th, 1983. Tracks 5-6 recorded from the Kevin Seal Show, US, November 17th, 1987. Tracks 7-8 recorded from Jo Soares Show, Brazil, September 1990. Tracks 9-10 recorded from the David Letterman Show, US, August 20th, 1991. Track 10 recorded from Ruta 66, Uruguay, April 14th, 1993. Track 11 recorded from VH10, Venezuela, April 21st, 1993. Track 12 recorded from the Tonight Show with Jay Leno, US April 28th, 1993. Track 13-15 recorded from the Friday Night show, US, November 8th, 1996.