---
TULL AT PENTRICH R & B CUSTOM SHOW 1997
---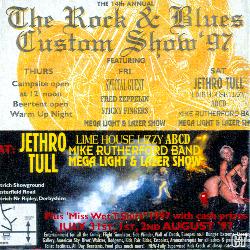 TRACKS: A Song For Jeffrey / Aqualung / Thick As A Brick / Dangerous Veils / Bourée / Songs From The Wood, Too Old To Rock'n'Roll, Too Young To Die (medley) / Jump Start / We Used To Know / Flying Dutchman intro, My God (medley) / Nothing Is Easy / Locomotive Breath / Aquadiddley, Living In The Past, Dogs In The Midwinter and something remeniscent of Hot-headed English General (instrumental), Cheerio (medley)
CDR: HMRCD00.15, '98 (UK)
QUALITY: Very Good (some noise from the audience)
TOTAL TIME: 74:11 min.
REMARKS: Bootleg. Recorded at The Rock & Blues Custom Show '97, Pentrich, UK, August 2nd, 1997. Power cut in "Dangerous Veils"because a generator ran out of fuel! "Aquadiddley" listed as "Roots/Aqualung theme", and "Dogs In The Midwinter and something...." listed as "Instrumental finale"