---
SEATTLE COLISEUM, WA 7/27/1975
---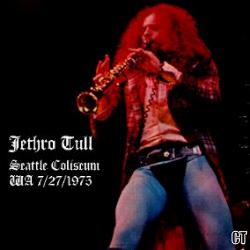 TRACKS: Intro / Wind Up / A Passion Play (excerpt) / Thick As A Brick (excerpt) / Wond'Ring Aloud / Medley: My God-Flute Solo-God Rest Ye Merry Gentlemen-Bourée-Living In The Past-Thick As A Brick / Sea Lion / Skating Away / Ladies / Drum Solo / Warchild / Medley: Warchild-Reasons For Waiting / Cross-Eyed Mary / Bungle In The Jungle / Intro: Story Of The Hare Who Lost His Spectacles-Aqualung / Crazed Institution / Conundrum / To Cry You A Song-A New Day Yesterday-Bourée-Living In The Past / Too Old To Rock'N'Roll / Minstrel In The Gallery / Instrumental
2 CDR: No label, '00 (US)
QUALITY: Very Good
TOTAL TIME: 62:57 min, 66:34 min.
REMARKS: Bootleg. Recorded live at Seattle Coliseum WA 27th July 1975. Tracks 6-11 recorded live at the LA Forum 15th August 1976.