---
NORWAY, YOUR WAY
---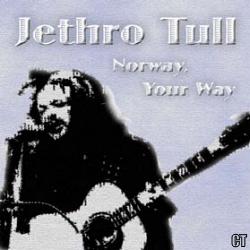 TRACKS: A Song For Jeffrey / Aqualung / Thick As A Brick / Dangerous Veils / In Sight Of The Minaret / Beside Myself / Paparazzi (Instrumental) / Skating Away On The Thin Ice Of The New Day / Bourée / Medley: Songs From The Wood-Too Old To Rock'N'Roll-Heavy Horses-Songs From The Wood / Nothing Is Easy / Acres Wild (with vocals) / Up The Pool / We Used To Know / Pussy Willow (with vocals) / Medley: Bungle In The Jungle-Minstrel in the Gallery-Teacher / Locomotive Breath / Instrumental / Living In The Past / Cheerio
2 CDR: No label, '01 (US)
QUALITY: Excellent / (Excellent - at some points)
TOTAL TIME: 58:55 min, 48:29 min.
REMARKS: Bootleg. Recorded live at the Muziekcentrum, 6/6/1997, Utrecht, Netherlands. The title indicates that this recording is from Norway, which of course is an error made by the person who made this item.