---
NO WAY TO.. SLOW DOWN !
---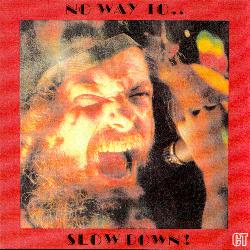 TRACKS: Intro, Something's On The Move / Hunting Girl / Fallen On Hard Times / Broadsword / Pussy Willow / A Song For Jeffrey / instrumental based loosely on Living In The Past / Fat Man / Jack-In-The-Green / Clasp / Too Many Too / Watching Me Watching You / Untitled Instrumental / Beastie / The Swirling Pit / Seal Driver / Sweet Dream / Too Old To Rock'n'Roll, Too Young To Die / Aqualung / Locomotive Breath, Black Sunday (instrumental) (medley) / Cheerio / Reynard The Fox / Pibroch, Black Satin Dancer (instrumental medley)
2 CDR: HMR2CD00.07, '97 (UK)
QUALITY: Very Good / Excellent
TOTAL TIME: 53:30 min, 51:20 min.
REMARKS: Bootleg. Main part of tracks recorded at Hempstead, Nassau Coliseum, September 18th, 1982. Last two tracks recorded in
Stockholm, Sweden, April 2nd, 1982. Sound quality is generally excellent, but some of the tracks are a bit muddled.