---
MY MANDAY FEELING
---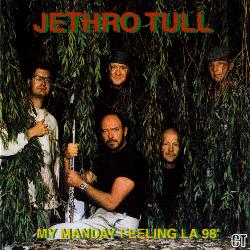 TRACKS: My Sunday Feeling / Aqualung / With You There To Help Me / Roots To Branches / Some Day The Sun Won't Shine For You / Boris Dancing, A New Day Yesterday / Instrumental (MBA solo) / Songs From The Wood, Too Old To Rock'n'Roll, Too Young To Die (medley) / Heavy Horses / Bourée / Budapest / My God / Pussy Willow / Cross-eyed Mary / Locomotive Breath / Instrumental, Living In The Past.
2 CDR: Platinum & Gold label PG-980831 (Japan)
QUALITY: Good
TOTAL TIME: 56:17 min, 45:44 min.
REMARKS: Bootleg. Recorded live in Los Angeles, August 31st, 1998. "Boris Dancing" listed as "Instrumental", and "Pussy Willow" listed as "Jack-In-The-Green" on cover. "Roots To Branches" and MBA's solo are not mentioned on the cover at all.