---
LIVE AT THE TEL AVIV CINERAMA
---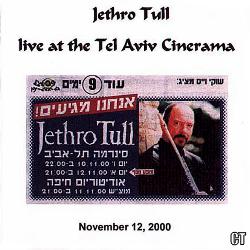 TRACKS: For A Thousand Mothers / Nothing Is Easy / Thick As A Brick / Hunt By Numbers / Bouree / Beside Myself / Water Carrier / Habanero Reel / Medley: Songs From The Wood-Too Old to Rock 'N' Roll-Heavy Horses / A New Day Yesterday / Pibroch Instrumental / My God
CDR: No label, '?? (??)
QUALITY: Excellent
TOTAL TIME: 72:54 min.
REMARKS: Bootleg. Recorded at the Tel Aviv Cinerama 12/11/00. An unauthorized FM Broadcast that maed Ian Anderson quite angry when he found out.