---
DIVINITIES LIVE IN BERLIN 22.05.95
---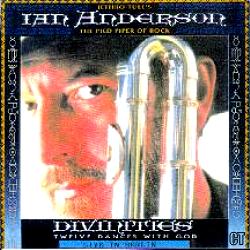 TRACKS: Intro / In A Stone Circle / In Sight Of The Minaret / In A Black Box / In The Grip Of Stronger Stuff / In Maternal Grace / In The Moneylender's Temple / In Defence Of Faiths / At Their Father's Knee / En Afrique / In The Olive Garden / In The Pay Of Spain / Bombay Valentine / Heavy Horses / Life's A Long Song / Sossity You're A Woman, Reasons For Waiting (medley) / Wond'ring Aloud / Cheap Day Return, Nursie (medley) / Dun Ringill / She Moved Through The Fair, Dust Devils (medley) / Jack-In-The-Green / Bourée / Aqualung / Locomotive Breath
2 CDR: HMR2CD00.09
QUALITY: Excellent
TOTAL TIME: 58:44 min, 59:54 min.
REMARKS: Bootleg. Not really a Jethro Tull CD, but from IAA's Divinities tour. Recorded at the Hochschule der Künste, Berlin, Germany, May 22nd, 1995. "Dust Devils" not listed on the cover.