---
Jethro Tull
Circus Magazine [August 10, 1976]
---
The last but one of their short 13 date European tour through eight countries, and we find Jethro Tull playing a 5000 seat auditorium on the outskirts of Barcelona, Spain. Their opening piece is the adventurously complex and powerfully electric "Thick as a Brick." In his traditional role as the lewd, leery jester, Ian Anderson dominates at the front of the band.
This is an important string of dates for Tull. It's their first set of live appearances in over a year and the in concert introduction of their new bassist, John Glascock (formerly of Carmen, the band to whom David Bowie paid elaborate lip service), who joined their ranks last November. And it is also an act which features a lot of their new album, Too Old To Rock 'N' Roll, Too Young To Die (Chrysalis).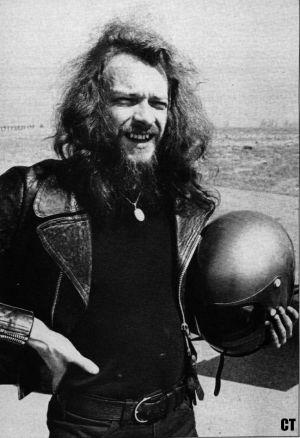 On keyboards John Evans wears a white pilot's suit, shoulder flashes too. Glascock could have fallen from the French aristocracy, flamboyantly ornamented as he is in a wide-brimmed red hat, a flared white blouse and bright red trousers. Somberly, Martin Barre, on guitar, displays his natty but conservative tan corduroy trousers and waistcoat, while Barriemore Barlow is content to sit behind a blue perspex double Ludwig. And on the extreme right of the stage behind various synthesizers and string machines, almost as an impartial observer, sits David Palmer, the man responsible for the string arrangements on Tull records since the early days.
Sound is superb and the band extraordinarily ambitious, at one point working through the complexity of Beethoven's Ninth. There's precision, professionalism, excitement and an emphasis more on the show's content than any distracting visual extravaganza.
The only humorous insertions are Anderson's frequent use of a baby pram to store his acoustic and flute, David Palmer strolling onstage in a monk's habit and, during "Quiz Kid," Anderson tossing domestic appliances from the back of a trolley. But even without the theatrical elaboration the set works magnificently. Anderson sings well, and strives perhaps to be the only visually important enhancement to the music: his wild man posture, the displays of vulgarity, the flute continually thrust phallically between his legs, are balanced by his appearances as the mild, serious musician diligently working out lines on acoustic or flute. Let there be no doubt, he is Jethro Tull.
Offstage his character is less easy to define, confounded by the fact there's a certain antagonism between him and the British press. He tolerates English journalists with a certain wariness, erecting an impenetrable shield of calm professional diffidence. Yet, because he effusively enjoys discussing himself and his music, quite often he reveals considerably more than he probably intends.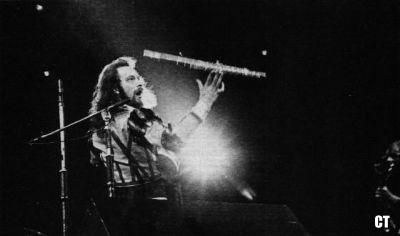 But another difficulty in an interview with Ian Anderson is his awareness of the insincerity within the rock business and his knowledge that quite often interviews are merely a superficial game played by two consenting parties. He is not beyond manipulating the conversation for his own benefit. However, he assures me he is currently on an honesty kick.
My small act of rebellion at the moment," he explains, "is to go around talking some common sense and truth. I'm actually trying to upset the little game by saying for real what I feel and what I think about things. And it's actually going to turn a lot of people off. They don't want to hear someone like me. They don't even want to consider the fact that I know about, for instance, income tax. You're not supposed to know about these things. It's bad for your image, boy. But I'm tired of playing the PR game."
Although he may be sensitive of the press, Anderson is also aware of its power, and over the last few months he has been using the media as a means of re-establishing Jethro Tull with the public. Shortly after coming back to England to live, having completed work on the new album, he appeared on a late-night TV magazine program, "The Old Grey Whistle Test." Then, only weeks later, he and Tull uncharacteristically performed on a commercial-network pop program called "Supersonic" to promote the single, "Too Old To Rock 'N' Roll, Too Young To Die." And although it hasn't been publicly screened yet, Tull has also made an hour-long TV special with director Mike Mansfield, based around the new album.
There's little doubt then that Ian Anderson most certainly wants to state the case for the new LP. And perhaps, along the way, explain its theme as well. But even when the subject is broached, his views seem clouded by the attitudes of a vulnerable man who can pessimistically predict media response. Either that, or he's totally consumed by unnatural paranoia. The title of the album is a similar act of defiance.
"The title," he says "openly invites all sorts of attacks on the music contained therein and I really don't mind because it was going to happen anyway. The first two or three interviews I did here yesterday in Spain were the first ones I'd done in two weeks, and the second or third, if not the first question was: Are you too old to rock 'n' roll? Is that what you're saying in this record? It's great.
"Everybody in the record company, from the office boy on, must have looked at the proofs for the album cover with dread. When they saw the title they probably thought, 'Oh Christ, he's really going to get some stick over this one.' Strangely, certainly in the British papers, they haven't done that number on the headline. I thought at least one of them would.
"It said, 'Not a Ray of Light' instead. Which is very intelligent, very clever," he comments sarcastically-the headline being an obvious pun on the central character's name, Ray Lomas.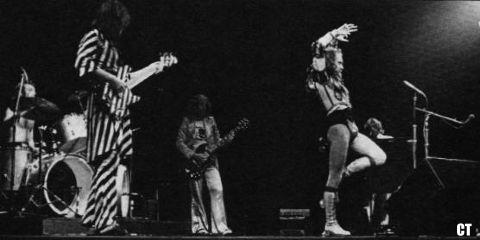 But what is the album about? Personally I had interpreted it as being a direct statement by Anderson under the superficial guise of the cartoon strip featuring Ray Lomas. That was the proverbial red herring, and he denies it.
"Perhaps if the circumstances under which the album was written were made apparent," he says, "it would clarify some of the things in your mind, and maybe in the minds of the people who've heard the album.
Towards the end of last year," he elaborates, "I recorded four tracks, one of which was 'Too Old To Rock 'N' Roll.' It was just an isolated piece. I completed the final mix actually while we were rehearsing. We started to rehearse some material for a new album, and there was no definite shape to the album, or no definite musical form that was arising out of a bunch of songs. We were just fooling around with lots of things.
"On discussion of the song 'Too Old To Rock 'N' Roll' with David Palmer, he brought up this story of a character who in some ways had common points with the character in the song. And David's acquaintance was called Ray Lomas. He recounted the story of Ray Lomas and his unwillingness to change from the lifestyle of the '50s or whatever. But my character isn't quite that old. He's the sort of rocker of the Mods-and-Rockers era. We talked about the realization of such a character in a more complete sense and devised a story for a theatrical musical type thing."
The intention was to present the work in London's West End, starring Adam Faith who played opposite David Essex in the movie Stardust. Unfortunately Faith was not available, and because Anderson found the songs preferable to the Tull material they were rehearsing, he decided to ditch the theatre project and re-route the material into an album.
"Finally I thought, 'Well, let's go ahead and do this as a group piece rather than ditch the whole thing.' And obviously I didn't want to get personally involved in any kind of West End musical kind of deal, because that's strictly nasty business.
"By this time I'd very quickly and easily written all the material for this musical project, whereas the group stuff was in limbo. There was a lot of music there, but it was simple songs--some of them short, some of them long--that were a bit heavy. You know, a bit like Minstrel In The Gallery, but a bit more severe. And the new stuff, in contrast, was quite up and had a different feel. So I made the decision to go ahead with Too Old To Rock 'N' Roll.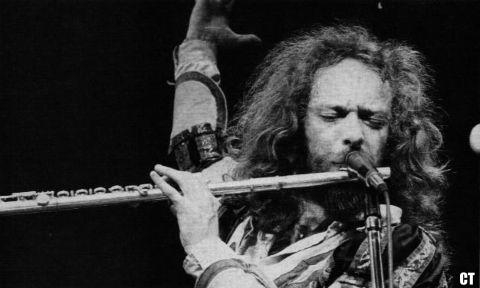 "We were then left with a bunch of songs, some of which we didn't use on ;the record because they weren't convincing in the way we played them. And since they didn't fit into the original concept, the story had to be rehashed here and there, and of course hugely abbreviated.
"The point of the songs was never actually to tell the story ... only to illustrate certain points. If you hear the South Pacific soundtrack, it doesn't tell you a story, it's just the songs.
"So that's really where the record is from. And where the cartoon strip is from, since it seemed necessary to finally point out that the songs did have some fundamental reason for being there. It's obviously sort of incomplete--and it is a bit, perhaps, finally unconvincing as a story. But obviously in the rush to get the thing out, to have it released to some standard that's okay, you have to make those kind of compromises."
Even so, I insist many of the songs still seem to be personal statements, fitting Anderson as snugly as his biker's jacket.
"I suppose they do in some ways," he concedes. "If they fit me they must also fit pretty well every other rock & roll singer--who must look on today's current output of the new generation of pop music with a certain disdain, with a certain kind of disappointment really. Because I don't see any new Whos, Rolling Stones or Led Zeppelins on the horizon."
Nevertheless, I persist, the set still reflects what could be construed as Anderson's opinions of his own role-expressions of disillusionment, bitterness, resentment and even a cynical humor. "The Chequered Flag" seems particularly pertinent.
The deaf composer completes his final score
He'll never hear his sweet encore ...
Isn't it grand to be playing to the stand,
Dead or alive'
Is Anderson retiring? That's how it struck me.
"Ooooh, definitely not," he states firmly. "It's actually the antithesis of 'Too Old To Rock 'N' Roll.' The 'Too Old' song was actually spawned in a moment of depression. At one point on an American tour I'd been really down after a duff gig that was probably my fault and I thought: I'm really past all this. Why should I be traveling another 500 miles to another town? Let me off at the roundabout. Whereas 'The Chequered Flag' is lyrically more like 'Bungle In The Jungle' (War Child). It's accepting the hardness of life, and saying: Well it's hell. But it's all worth it, getting out there and doing it."

Written by: Tony Proops