---
IN A NORWEGIAN WOOD
---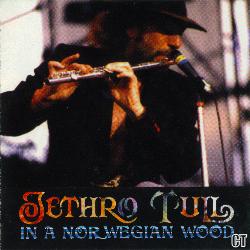 TRACKS: For A Thousand Mothers / Living In The Past / My Sunday Feeling / Bourée (including Soirée) / With You There To Help Me, In The Grip Of Stronger Stuff (medley) / Steal / Farm On The Freeway / Thick As A Brick / Sossity; You're A Woman, Reasons For Waiting (medley) / Songs From The Wood, Heavy Horses, Too Old To Rock'n'Roll; Too Young To Die, Songs From The Wood (medley) / Budapest / A New Day Yesterday (including segment of Kelpie) / Aqualung / Locomotive Breath / Cross-eyed Mary, Dharma For One (medley)
2 CD: Why Not? S.r.l. RPCD 2172-2173, 94' (IT)
QUALITY: Very good (some chatter from the audience)
TOTAL TIME: 51:22 min, 46:49 min.
REMARKS: Bootleg. Recorded at the Norwegian Wood Festival, Frognerbadet, Oslo, Norway, June 11th, 1994. "Steal" listed as "Instrumental Jam".