---
A SACKFUL OF TROUSERSNAKES
---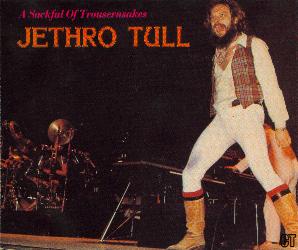 TRACKS: Wond'ring Aloud / Skating Away On The Thin Ice Of A New Day / Jack-In-The-Green / Thick As A Brick (extract) / Songs From The Wood (Only on LP)) / Velvet Green / Hunting Girl / Too Old To Rock'n'Roll; Too Old To Die / Beethoven's Ninth Symphony (second and fourth movements abridged) / Minstrel In The Gallery / Cross-eyed Mary / Aqualung / Wind-up (including a segment of Bach's Double Violin Concerto), Back-door Angels, Locomotive Breath, The Dambusters March and Land of Hope And Glory (medley)
2 CD: OBMS Records OBMS-098, '91 (IT)
QUALITY: Very Good
TOTAL TIME: 42:48 min, 45:51 min.
REMARKS: Bootleg. Recorded at the Anaheim Convention Centre, California, April 6th, 1977. Last word in title is mis-spelled Trousernsakes on the cover of the CD.